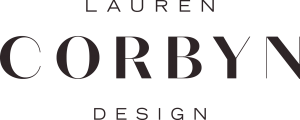 Based in Oklahoma City, Lauren Corbyn Design helps busy people avoid costly mistakes and houses that feel like a big bummer. Lauren guides clients through renovations and decorating projects to create highly custom, highly personal, totally livable, "feel at home" homes.
Lauren understands the value of comfortable, durable, livable and BEAUTIFUL design. Being home should put a smile on your face. Lauren's greatest strength as a designer is understanding clients' personal style and bringing that to the forefront of a home's thoughtful design.
Interested in working together? Let's see if we're a good fit! Every project begins with a paid consultation that lasts up to two hours. Lauren will share as much info as possible while learning about everything you want for your space.
SHOP Art+Science is coming soon!
Please reach out via email to schedule a quick call info@laurencorbyn.design